HOME > Company Info
NAGEL GROUP
NAGEL group has its headquarters in Nürtingen in the suburb of Stuttgart and has its production sites in India, Brasil, U.S.A. and England and moreover is affiliated with KADIA and TBT. NAGEL group catches meticulously the needs from various kinds of market and provides honing, superfinishing and deep hole drilling machines, tools and process besides.
NAGEL Group Worldwide
GERMANY

NAGEL Maschinen- und Werkzeugfabrik GmbH

ELGAN Diamantwerkzeuge GmbH & Co. KG

KADIA Produktion GmbH + Co.

TBT Tiefbohrtechnik GmbH + Co
UK

PERMAT Machines Ltd.
U.S.A.

NAGEL Precision Inc.
MEXICO
NAGEL Precision de Mexico.
BRAZIL

NAGEL do Brasil Máquinas e Ferramentas Ltd.
INDIA
NAGEL Special Machines Pvt. Ltd.
CHINA

NAGEL Machinery Trading (Beijing) Co., Ltd.
JAPAN

NAGEL-AOBA Precision Co., Ltd.
Superfinishing machine
Centerless Throughfeed Superfinishiing Machine: VARIO FIN SCD
VARIO FIN SCD is a centerless throughfeed super finishing machine.
High process is possible for superfinishing various kinds of workpieces and creating different profile shapes.

Target Workpiece
NAGEL is a German machinie maker who has its production sites in India, Brasil, U.S.A. and England, and provides internationally various kinds of finishing machine besides honing machine.
Super precise honing machine
U6 NC Linear Honing Machine: 2LH 60/350
(Minimum bore diameter : Φ2.0mm)
Linear drive high speed and high accurate honing machine
Perfect for super precise processing of fuel injection nozzle or pump
Match honing & Seat honing:
Extra-small bore honing below 0.8mm dia., match honing intended for fuel injection pump or nozzle, and seat honing are resolved by different type of machine.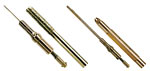 High precision machining tools
KADIA is a Honing Machine Maker who is an expert of small diameter honing, supplying not only Bosch and Delphi but also many manufactures all over the world.
Slim deep hole drill/BTA machine
Gundrilling machine ML250
High efficient and high rigid deep hole drilling machine
Support high efficient and high precise drilling process totally from machine and tools to drilling process !!
The most suitable for deep hole drilling required at Hydraulic Components, Connecting Rods, Gear Shafts, Small Hydraulic Cylinders, Medical Equipment


Gundrilling tools
TBT is the specialized maker in deep hole drilling and BTA. TBT provides everything of deep hole drilling, that means machines, tools and even drilling process.