HOME > Honing Technology
Honing Technology
Honing is a kind of grinding processes to grind workpieces by abrasive stones. Honing process is pushing multi-stones set in the honing head against the workpiece surface and grinding by combination of rotation and stroking the tool.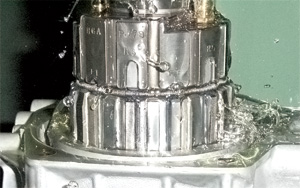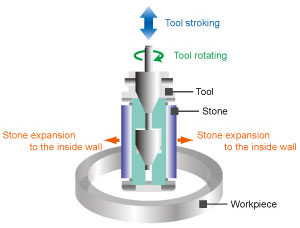 Honing ProcessHoning Theory Diagram
Features of Honing Process
Improve roundness or cylindricity of the pre-processed cylinder.
Desired roughness of the surface is attained by using different grit size stones properly.
High-efficiency grinding is realized through sheet-like honing by using multi-stones.
Honing along the pre-processed bores does not need accurate workpiece positioning against honing axis.
Difficult long bore inside honing is practicable.
The proper crosshatch that works as a groove for fixing oil on the cylinder surface can be formed by desired angle and depth.
Crosshatch example
Target Workpiece
Automobile & motorcycle
Pinion gear
Rocker arm
Turbocharger parts
Spur gear
Helical gear
Crankshaft pulley
Steering parts
Hydraulic valve
Small engine
Mission gear
Two-wheel engine
Engine block
Power steering tube
Marine vessel
Liner & sleeve for large-size vessel
Airplane
| | | |
| --- | --- | --- |
| Landing gear | Various kinds of bearings | |
Railway
Wheels & bearings
Industrial instrument
Electric appliance
| | | |
| --- | --- | --- |
| Freezer cylinder | Freezer slider | Freezer frame, etc. |
Hydraulic equipment
| | | |
| --- | --- | --- |
| Gear pump | Hydraulic valve body | |